When you're in your 20s, older wise people tell you to start saving money for retirement. You've heard it...if you only put $25 a week or month into a 401k plan, you'd have millions. But what happens? Life. The refrigerator breaks. $1,000.... Sure...just let me write you a check for that...uh, NOT! Anyway, as we plug along being homeowners or parents into our 30s, the work thing can really overtake...you eventually need a vacation, for chrissake. Retirement seems so far off into the future, you'll die of a heart attack before you get there, so you take a vacation. And then... maybe a divorce, job loss, sickness... all these events affect the ability to save. I have often wondered how it is anyone really ever prepares for retirement.

Economic theorists predict Social Security benefits will be gone before you or I ever reach age 65. Oh, but wait, 65 isn't really retirement age any more, is it? Is it 68 or 70 or 72? I forget. Folks today like my mother's age (66) aren't going to leave their adult kids a bigass inheritance , either. For the fixed incomes in their own retirement seem to fail to make ends meet....so, we really need to think about such things.

One of my 2009 goals, which I confess I haven't been too active in implementing, is to repair financial issues from the divorce regarding credit. Get these kids situated and off into their adulthood.... think about the remaining 25 or so years of my working life and maximize it.

For several months I've had this fantasy of saving for and really considering getting a cottage up north on a cliff or in the mountains.... alone, but a place visitors would like to stay...where I'd research and write and teach. Where I'd have a garden of colorful flowers that I can't grow here in Florida, but will do well in another climate. I dreamed it.... Wanting to put a 5 year plan together. And then...


A cold snap happened here in Florida last week. I went out to my car in the morning and there was ice on the windshield. Maybe for some of you this is ordinary, but I didn't know what to do. I tried to use my windshield washer, but the water was frozen. I didn't have a scraper...used a comb from my purse (geeze)... and I didn't have any gloves, I froze my ass off driving and waiting for the damn heater to get going. And I thought, NO WAY... I don't want to live in this shit. I'll take the Florida heat.

So.... I'm revising the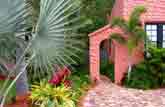 dream. Remember I tried with my ex a few years back to open a bed and breakfast in an old historical Florida cottage? Now I'm thinking of returning to the ambience and idea of an Old Florida historical place, but maybe a block from the beach??? I see myself in something artsy fartsy and inspired for my creative work... alone... serene.... with connection to nature and the outdoors and a whole host of plants and tropicals.
But today, my ultra modern cool two-story townhome suffices for this busy lifestyle with two teens and all their friends who stay. I have ONE houseplant... a Christmas Cactus, which is known to be hardy... you can't kill it... but in my case, it's looking a little sad.
I'm now reading,
What Color is Your Parachute for Retirement: Planning the Life You Want Now
by Bolles and Nelson. It's very good.
What's your 5 or 10 year plan? Have you thought beyond tomorrow?

Facebook Badge